Massey Ferguson Tractors for Sale in United Arab Emirates
Model / Type: Massey Ferguson 375 4WD Horse Power: 75hp Transmission: Manual Engine: 4.41D No. of cylinders: 4 Gear Box: 8 forward, 2 reverse Brakes: Oil-immersed, multi-disc Maximum Lift Capacity: 2,145 kg Colour: Red Extras: Hydraulic Position Control, High P.T.O Power, Spring Suspension Seat,

Read more
Farm Tractors
Why Massey Ferguson Tractors ?
Massey Ferguson is a spectacular name in the tractor industry, occupying the top spot, because of its smart yet innovative features. These tractors work hand in glove with the farmers to ensure they can cater to all the agricultural needs of any farm or farmer.
Massey Ferguson Tractors, being potent and durable at the same time, have gained the limelight of trust and loyalty from their customers. These tractors are upgraded with modernized technological features for easing the farming tasks of the UAE farmers. Besides, they are exclusively available in a wide variety ranging from compact, subcompact, utility, mid-range as well as high horsepower row crop tractors. Their wide variety is of great advantage for their fame in UAE, as they can provide numerous customized solutions for the endless agricultural issues.
Massey Ferguson Tractors are considered to be the most economical and sturdy tractors in UAE as they are well built with the strongest alloy materials and deliver great fuel efficiency. The brand, Massey Ferguson Tractors have been the most wanted tractor in the farmer fraternity throughout Africa as well as the Middle East. Not only tractors but their farm implements are highly productive and exhibit abundant uses in the agricultural field.
If you are looking for a reliable tractor for sale in UAE offering great performance, durability, and increased versatility then undoubtedly you're on the right page!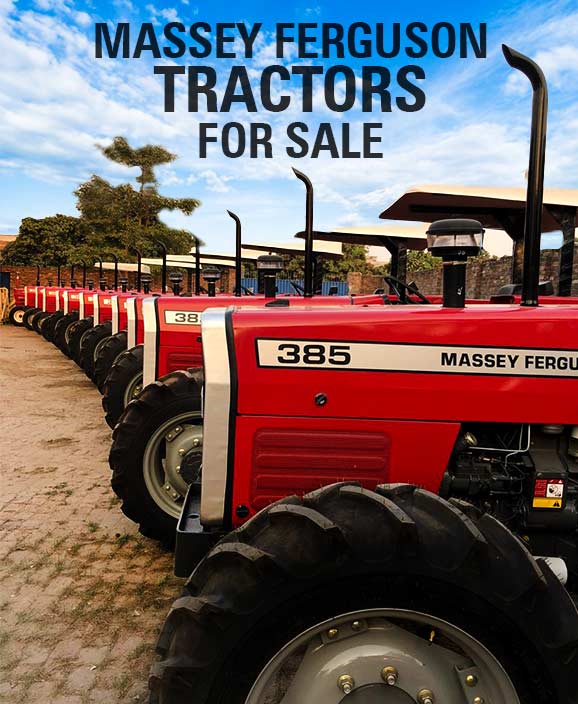 Farm Implements for Sale in UAE
Farm Implements for Sale in UAE
Bed shape Planter Specification FRAME: 50X50X6M BOX HITCH: 75X36X6MM LENGTH: 1520MM HEIGHT: 2240MM WIDTH: 2240MM APPROX WEIGHT: 470KGS

Read more

Disc Plough Specification Available from 2-5 discs WEIGHT 550 WORKING WIDHTH 990MM WORKING DEPTH 250MM HEIGHT 1235MMh LENGTH 2130MM POWER REQUIRE 85HP ONWARDS

Read more

Specifications Power Dozer to fit MF 240, 350 Plus, 260, 360, 375, 385 tractors Blade Model MT-08/1=6′ * 22″ -(Single ram) Model MT-08/2=6.5′ * 30″ (Twin ram)  

Read more

Rear Blade Specification Width: 5' – 12' Length: 5ft with wheel 1/2" Reversible/replaceable cutting edge.

Read more

Specifications No of Cutter 104-128 Height with Wheels 6' Length of Drum 4.5' – 5.5' PTO Speed 540RPM Fuel Consumption 7-7.5l/hr Tractor compatibility 50 HP and above

Read more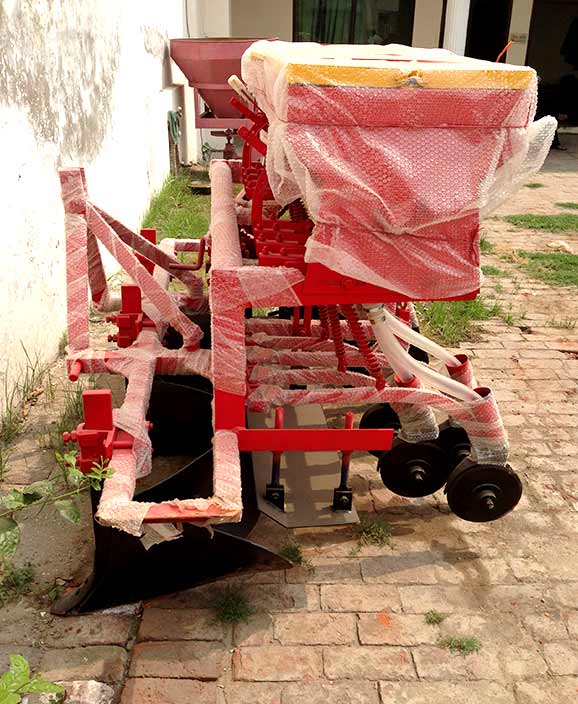 MODERN FARMING TOOLS
Tractor Implements for Sale in UAE
Tractor implements are of great significance for the farms of UAE as with the aid of these instruments, not only the operational stress of farmers is reduced but also the crop productivity is increased considerably. These tractor implements comprise a wide array of horsepower and sizes, resulting in their adherence to multiple tractors of different horsepower ranges for aiding compound cultivation activities.
Farm implements for sale in UAE have evolved over time. We are offering farm implements that either can stand alone or can be mounted onto the tractors for improving tractor operations. These farm implements have mechanized the farming procedures. When the power-operated agricultural machinery is driven in the agricultural field, not only the production time is reduced but also issues like labor shortage and fodder shortage are no more trouble. The tedious agricultural procedures such as harrowing, ploughing, reaping, sowing, etc. can now be done in less time and are quicker than ever.
These farm implements are developed with updated technology, tackling famine issues and improving the lives of African and Middle Eastern farmers for so many decades. Certain farm implements are of considerable importance as these help in renewing the essential nutrients of the soil that assist in the growth of the crops. Our top-notch farm implements in UAE lower the overall costs of the cultivation process on one hand and on the other hand, strengthen the nutrient ratio in the soil for enhanced crop production.
You can count on our Massey Ferguson Company in UAE for the search of your desired tractor or farm implement at economical rates and flourish your farms by amplifying productivity.
Testimonials
Testimonials
100% trusted tractor company in the United Arab Emirates. If you are looking for Massey Ferguson tractors and farm implements for your farm, you should really visit Massey Ferguson UAE.

Victor Steve

Creative Heads Inc
They are really interested in their customers, they respond to all your requests/questions very quickly and they give competitive prices on the market. I recommend Massey Ferguson UAE to all farmers for any agricultural needs.

Sandeep Arjun

Creative Heads Inc
The best agricultural machinery store in the United Arab Emirates. You'll find amazing people working there and you'll be satisfied making business with them. Thank you Massey Ferguson UAE.

Mosa Al Khalid

CTO - C Company